Five. That's the number I'm sticking to in my Features & Favorites post this Friday. Why? Because I love alliterations and Five Features and Favorites for Friday just has a fabulous flow. (Too far?) And frankly, Fashion Horoscopes kicked my blogging Astrology this week so five sounds like a more reasonable amount of items to cover than the twelve signs of the Zodiac.
1. I had honestly never noticed that Express had Astrology themed jewelry until I was looking for pieces to re-create some of the celebrity outfits
here
and
here.
So this case of serendipity was too good not to mention. They have a bracelet for every sign available
here,
and each sign has a gold and silver option for $10 each.
Aries / Leo / Aquarius / Capricorn
2. In 2013, one of my favorite necklaces was the
Sculpted Hoop Pendant Necklace
(I posted about it
here
and
here
). One thing I mentioned was that it's not really an attention-getting kind of necklace, but an easy outfit completer. In 2014, I am loving the
Linked Mixed Metal Chevron Necklace
, shown here on Carylee of
More Pieces of Me.
And now that I've had a few chances to wear it, I can officially say that it
is
a compliment-getting kind of necklace. (View my outfits
here
and
here
.) People notice this and comment every time I wear it, and I find myself deliberately trying to plan more outfits around it. Who doesn't like getting compliments on their outfit?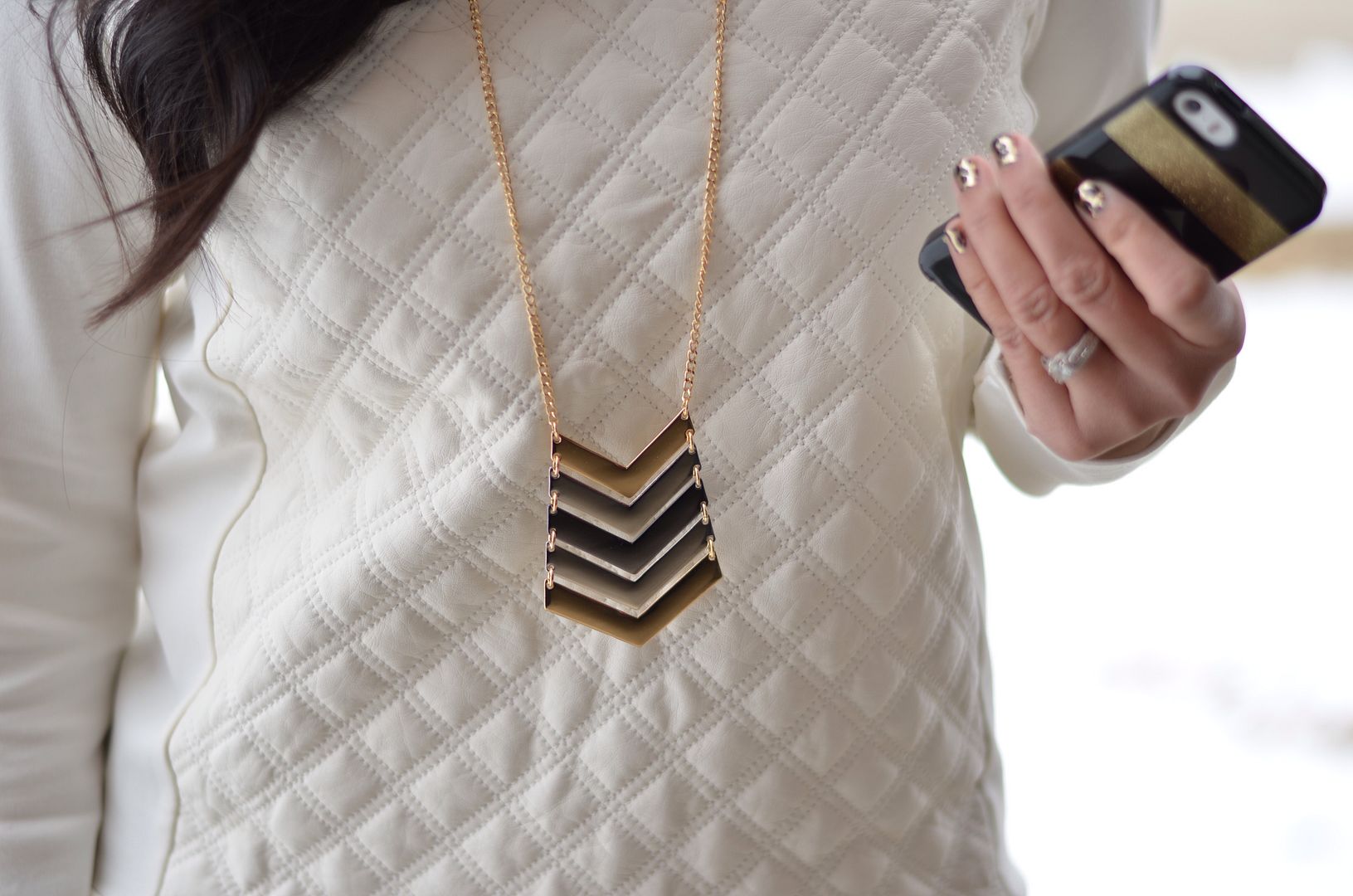 3. On
Wednesday
I showed these
Suede Double Buckle Sling Back Pumps
in black as an outfit option for a look by Kristin Cavallari. It's always nice to get an in person view of Express shoes since their in-store selection can be limited, so what luck that Skye of
The Shopaholic SAHM
showed her pair (in the
Cannes
color) this week.
I'm having visions of wearing these in Spring with an outfit like these:
And hmm..come to think of it I already have each of the pieces below as options for creating these looks...except the shoes....
Voile Convertible Sleeve Tunic
(left)/
Portofino Shirt
(right) /
Stella Destroyed Jean Legging
(both)
4. Express has had high rise jeans and
Acid Wash jeans
(shown below) for a few months now, and I am not ready to jump on board with this trend. Although one way to test the waters is like An of
Haute Pink Pretty,
and disguise the fact that they are high rise with an untucked shirt? What I
would
wear STAT is her
Leather Quilted Moto Jacket.
This one is not (Minus the) Leather, it's the real deal. The price reflects that, but all six reviewers gave it a five-star rating. So maybe with a good sale or some coupons it could be a little more affordable.
5. Last week I said I needed a tutorial to figure out how to wear the
Plaid and Leopard Scarf
I bought because I fail at tying anything other than an infinity scarf. Well, I took matters into my own hands and decided that this was going to be an infinity scarf. Here's how it started out:
Enter one week of sewing camp at JoAnn Fabric in 7th grade and a 15 year-old basic Brother sewing machine:
And now I am the proud owner of a
Plaid and Leopard
Infinity Scarf! Believe me when I say I seriously cannot craft or sew other than a straight line, and I never DIY anything. But I somehow did this, and it's been easier for me style the scarf this way. And P.S. Infinity or not...it's a compliment getting piece!
Left:
From Express: Extreme Stretch Jean Leggings
/
Scarf
Other:
J Crew Factory Chambray Shirt
/
Target Booties
Right:
From Express:
Tee (
Current Similar
),
Scarf,
Jeans (
Current Similar
),
Link Bracelet
Other: Booties, Belt, Watch, Sage K & Co Spike Bracelet
Thanks for reading today! I appreciate all of your feedback and your kind, helpful comments. I'm always learning as I go here so thanks for sticking with me on the journey!
Linking up Today:
What I'm Loving Friday /
Friday's Fab Favorites
/
Casual Friday
/
Favorite Fashion Friday
Passion for Fashion / Weekend Wind Down / The Fashion Informant / The Lauren Elizabeth / Fashion Item Friday / Look What I Got with Tara