It seems like very few people are neutral on New Year's Resolutions. You either love them or hate them. I'm in the "love them" camp. I set a few small, manageable ones every year and take them very seriously so I can pat myself on the back on December 31 for a job well done. Apparently I like that sense of accomplishment and achievement in my life, even if its in a trivial area.
In the final week of our Holiday Style Series I'm looking back on my 2013 fashion resolutions and sharing my 2014 edition as well. I know some of them might seem odd at first. But hopefully after reading my reasoning they'll make a little more sense and maybe even give you some ideas for refining your wardrobe or adjusting your spending habits to make the best of your budget.
2013 Review
1. No Cardigan Purchases

Reason:
That's right, no cardigans. I know it sounds strange and probably impossible to many. This is not to say there's anything wrong with them. But I owned cardigans in nearly every color of the rainbow, yet I realized that when I browsed blogs and Pinterest, I was more drawn to looks with blazers or jackets of some kind. And since I owned very few blazers and jackets, I decided to put a ban on adding cardigans and put that money toward blazers and jackets instead.
Sources:
Left
,
Right
Result:
I will admit that I bought one cardigan in 2013. However, I only wear it around the house, so I consider it lounge wear. And my only criteria for lounge wear is that I can't be embarrassed to answer the door in what I'm wearing. Other than that, I definitely felt more polished and put together this year by increasing my collection of blazers and jackets and opting for those more often than cardigans.

2. No Impulse Target Apparel Purchases
Reason:
I love Target as much as anyone else, and I am there 1-2 times per week for grocery and household items. It's so easy to browse the clothing section and throw in a couple of cute, affordable items each time. Eventually I found it quickly diminished my clothing budget, and I was left with a closet full of random items that didn't really go together or give me the refined style that I want.
Result: I've been really pleased with the results of this resolution and will continue it into 2014. It doesn't mean I won't buy clothes from Target, but they are carefully planned and selected (like the set on the right, which is made entirely from Target items) in order to put together an outfit and not just, "hey this looks cute, let's bring it home and figure it out from there."
1.
Arm-ageddon to Arm Accents
Reason:
Some people have a knack for bracelet stacking, arm parties, etc. They can layer bracelets in a way that looks artistic and stylish. After reviewing some of my personal photos from 2013, I have come to accept that I am not one of those people. All of my arm party attempts look like Arm-ageddon. It's not pretty and it's time for me to accept defeat and change my ways.
Looking Forward:
If you have the talent for bracelet stacking, then arm party-on! I'll be admiring your work from my laptop. But for myself, instead of looking for stacking pieces and sets, I'll be switching over to standalone pieces and a simpler aesthetic.
2. Camiso-long, Farewell, Auf Wiedersehen, Good Bye
Reason: In the past, if I came across a v neck or scoop neck t-shirt or sweater I liked that was just a little too low cut, no problem. Just throw on a camisole underneath. Problem solved! Well, not quite. Once again, reviewing personal photos has taught me that this look is doing me no favors. Most of the time it makes me look frumpy or dated, and that's definitely not a look I want.


Looking forward: I started 2014 with a good closet clean out and said sayonara to the offending tops. From here on out, if a v neck or scoop neck needs a camisole, then it doesn't need to find a home in my closet.
3. Nail It Down
Just like #2 in my 2013 resolutions, I've added way too much clutter to my life by way of impulse purchases in the nail polish department. In part, there was a process of trial and error throughout the last couple of years in finding what colors work best on me and trying some of the newer color trends (like greens and blues) to see if I could pull them off. Some worked, some didn't. Then I got in the habit of randomly picking up a pretty color here and there, and now I have a bunch of extra "meh" colors cluttering up my space.
Both images via
AboutMyStyle.com
Looking Forward:
First, I need to clean out my "meh" colors and find new homes for them. Second, I'm giving myself the same "No Impulse Purchases" rule for nail polish, whether it's at Target or the drugstore or the department store. It doesn't mean I won't buy any new colors this year, but they need to be carefully planned and selected so I limit my stash to just my favorite, most flattering shades.
EXPRESS RESOLUTIONS
Not that they're asking my opinion, but if I could make some 2014 resolutions for Express I would include the following:
1. Play Nice with Polyvore
Reason:
For the love of blog, please take more product photos where the models hands and hair are not awkwardly placed on the product I want to use. I know it's possible because you do it sometimes for your own purposes. And the result is much more aesthetically pleasing, which makes people like your products more!
2. Size Matters
Reason:
When it comes to ordering earrings and handbags from Express, you might be quite surprised by the size of things when they show up at your door. The earrings on the left may end up looking like the ones on the right. If that's what you wanted, great, but sometimes it's not. Sure, they have product dimensions for earrings and handbags, but I don't want to have to track down my measuring tape, draw some dimensions on my notepad then compare it to current earrings or handbags I own. Considering nearly all other products are shown on a model, why not these? It would be extremely helpful to have a visual of these shown to scale.
So there you have it! My slightly strange but fairly simple fashion resolutions. If you have styles you're letting go of or adopting this year, let me know in the comments below so I know I'm not the only one who makes arbitrary fashion rules for herself.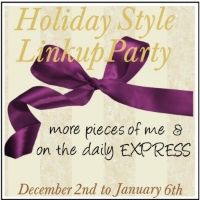 CONVERSATION